The Cogniac Platform
Our low-code platform leverages artificial intelligence and convolutional neural networks to deliver enhanced operational performance.
The Benefits are Easy to See
Unlike traditional computer vision platforms that remain fixed on a single solution, our unique, evolving AI model adapts and improves, enabling it to deploy multiple tasks simultaneously.
Contact us to improve your operations using our visual data management and automation.
Leverage our AI to create AI
Our platform's AI learns from every image it processes. As the system analyzes more images, the platform becomes faster and more accurate, constantly improving with every task.
Build a visual data repository
Using our cloud-based platform, users can deploy and monitor applications anywhere. Images are stored in a central, secure hub to build a visual data repository.
Become highly agile and scalable
Our platform's AI is ideal for high-volume industries. It supports multiple deployment models across the cloud, on-prem, or both, enabling your optimization to scale seamlessly.
Get up to speed in 2 weeks
Our platform uses hyper parameter optimization, a technique that optimizes models and course-corrects in real time, reducing setup and implementation time by months.
Don't worry about developers
Our user interface has been designed and built with simplicity at heart. The platform's interactive user experience allows subject matter experts to focus on the tasks that drive the most value.
Drive Value from just 100 images
Our platform can identify defects from as few as 100 labeled images. Once trained, the Cogniac AI will deliver results comparable to a human subject matter expert within hours.
Automotive
Our computer vision platform simplifies complex automotive applications. From stamping lines to fascia panels or paint inspection, the power of Cogniac is changing the face of automotive manufacturing.
Railway
Railroads still form the backbone of the mid-distance logistics industry, providing efficient transportation for goods across the country. Cogniac works to ensure increased safety and preventative maintenance on both the train and the tracks – the most valuable physical assets in the industry.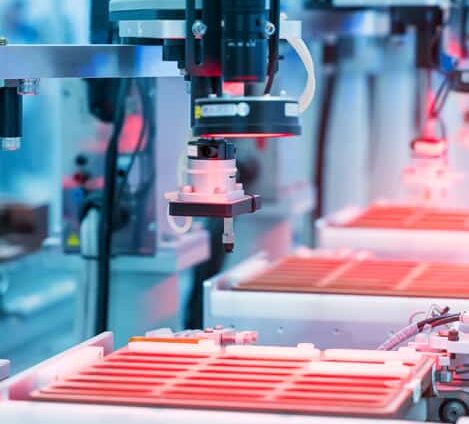 Manufacturing & Industrial
Cogniac is the game-changer for computer vision in manufacturing & industrial environments, truly maximizing the value of visual data for its customers. Cogniac delivers transformative organizational performance by overcoming the challenges you never thought possible.
Safety & Security
Cogniac is improving the way companies can ensure safety for their employees, customers and guests at sites and facilities worldwide. Whether you're looking for intruders or simply PPE equipment, Cogniac can deliver enhanced operations and compliance for your organization.
Government
With vast executive experience in government organizations, Cogniac is ideally placed to support a range of intelligence, national security and defense projects. Cogniac upholds the most rigorous safety and privacy protocols for its clients, protecting the interests of every citizen.
Logistics
The global reliance on e-commerce is an example of the way our world is changing. Cogniac supports the logistics industry with intelligent warehouse and inventory management. By solving a diverse range of problems not previously possible, Cogniac is the perfect strategic partner for large logistics organizations.
Packaging
With packaging and kitting becoming ever-more demanding across multiple industries, Cogniac's speed, accuracy, and agility are enabling enterprises to deliver outstanding customer service.
An Introduction to Cogniac